Saw: The Ultimate Collection – 4K + Blu-ray with exclusive replica REVERSE BEAR TRAP
Only 48 left in stock
| | |
| --- | --- |
| Number of 4K UHD Discs | 3 |
| Number of Blu-ray Discs | 10 |
| Total Number Of Discs | 13 |
| Rating | R |
| Release Date | 16 November 2022 |
| Runtime (in minutes) | 1157 |
| Product Code | VVE3203 |
Featuring an exclusive replica Reverse Bear Trap and collector's display box! 🩸
With its story of a morally obsessed serial killer who forces his victims to play horrific games, Saw shocked audiences, redefined the horror genre, and spawned one of the most successful franchises of all time. Now, it's time to put the pieces of the puzzle together with Saw, Saw II, Saw III, Saw IV, Saw V, Saw VI, Saw: 3D – The Final Chapter, Jigsaw and Spiral: From the Book of Saw in this ultimate 13-disc collection – featuring an exclusive replica Reverse Bear Trap plus a bonus disc packed with hours of special features – including behind-the-scenes featurettes, cast & crew interviews, and more!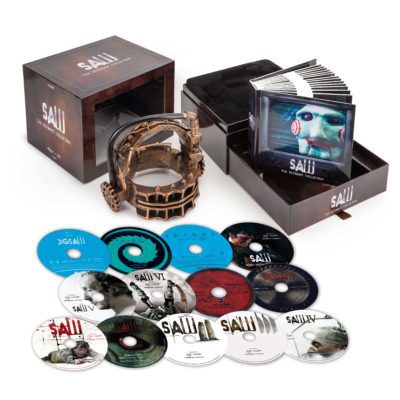 1500 Copies Only
Replica Reverse Bear Trap Specifications:
WEIGHT: 0.6kg
DIMENSIONS: 150MM (H) x 180MM (W) x 147MM (D)
MATERIAL: Hand painted, sculpted polyresin
Box Specifications:
TOTAL BOX WEIGHT: 1.8KG
DIMENSIONS: 215MM (W) x 240MM (H) x 185MM (D)
Sent in a custom-made shipper!
────────────────────────────────────
Special Features:
SAW: 4K
Audio commentary by director James Wan, writer / actor Leigh Whannell and actor Cary Elwes
Audio commentary by producers Mark Burg, Gregg Hoffman and Oren Koules
Game Changer: The Legacy of Saw
Dolby Vision, HDR10
Dolby Atmos
Unrated Cut
⸻
SAW – BLU-RAY
Audio commentary by director James Wan, writer / actor Leigh Whannell and actor Cary Elwes
Audio commentary by producers Mark Burg, Gregg Hoffman and Oren Koules
Game Changer: The Legacy of Saw
Saw: The Original Short Film
Hacking Away at Saw
Alternate Storyboard Sequence
Theatrical Trailer
Unrated Cut
⸻
SAW II – BLU-RAY
Audio commentary by director Darren Lynn Bousman, production designer David Hackl and editor Kevin Greutert
Audio commentary by executive producer James Wan and writer / executive producer Leigh Whannell
The Scott Tibbs documentary
The Story Behind the Story – Find Out What Events Led to the Inspiration of Saw
Gregg Hoffman: In Memoriam – Tribute to producer Gregg Hoffman
Unrated Cut
⸻
SAW III – BLU-RAY
Audio commentary by director Darren Lynn Bousman, writer/executive producer Leigh Wannell, executive producers Peter Block & Jason Constantine
Audio commentary by producers Oren Koules and Mark Burg
Audio commentary by director Darren Lynn Bousman, editor Kevin Greutert and director of photography David A. Armstrong
The Traps of Saw III
The Details of Death: The Props of Saw
The Writing of Saw III
Amanda: Evolution of a Killer
Darren's Diary: Anatomy of a Director
Deleted Scenes
Theatrical Trailers
Unrated Cut
⸻
SAW IV – BLU-RAY
Audio commentary by producers Oren Koules & Mark Burg and executive producers Peter Block & Jason Constantine
Audio commentary by director Darren Lynn Bousman and actor Lyriq Bent
Darren's Video Diary
The Traps of Saw IV
The Props of Saw IV
Music video "I.V."- performed by X Japan
Deleted Scene
Theatrical Trailer
Unrated Cut
⸻
SAW V – BLU-RAY
Audio commentary by director David Hackl and first assistant director Steve Webb
Audio commentary by producers Mark Burg & Oren Koules and executive producers Peter Block & Jason Constantine
The Pendulum Trap
The Cube Trap
The Coffin Trap
The Fatal Five
Slicing the Cube: Editing the Cube Trap
Theatrical Trailer
Unrated Cut
⸻
SAW VI – BLU-RAY
Audio commentary by producer Mark Burg and executive producers Peter Block & Jason Constantine
Audio commentary by director Kevin Greutert and writers Marcus Dunstan & Patrick Melton
Jigsaw Revealed
The Traps of Saw VI
A Killer Maze: Making Saw – Game Over
Music Videos
Theatrical Trailer
Unrated Cut
⸻
SAW 3D – BLU-RAY
3D & 2D versions of the film
Audio commentary by producers Mark Burg, Oren Koules & Peter Block
Audio commentary by writers Marcus Dunstan & Patrick Melton
Deleted and Extended Scenes
Music Videos
52 Ways to Die – Recounting the Traps from the Saw films
Please note this disc is Region B locked
Unrated Cut
⸻
JIGSAW – 4K
Audio commentary by producers Mark Burg, Oren Koules & Peter Block
I Speak for the Dead: The Legacy of Saw – 7-part documentary
The Choice is Yours: Exploring the Props
Dolby Vision, HDR10
Dolby Atmos
⸻
JIGSAW – BLU-RAY
I Speak for the Dead: The Legacy of Saw – 7-part documentary
The Choice is Yours: Exploring the Props
Please note this disc is Region B locked
⸻
SPIRAL: FROM THE BOOK OF SAW – 4K
Audio commentary by director Darren Lynn Bousman, co-screenwriter Josh Stolberg and composer Charlie Clouser
Audio commentary by producers Oren Koules & Mark Burg
The Consequences of Your Actions: Creating Spiral
Drawing Inspiration: Illustrated Trap Breakdowns
Decoding the Marketing Spiral
HDR10
Dolby Atmos
⸻
SPIRAL: FROM THE BOOK OF SAW – BLU-RAY
The Consequences of Your Actions: Creating Spiral
Drawing Inspiration: Illustrated Trap Breakdowns
Decoding the Marketing Spiral
Please note this disc is Region B locked
⸻
BONUS DISC – BLU-RAY
SAW
Behind-the-Scenes – 2 featurettes
Sawed Off: Inside Sneak Peek at the Making of Saw – featurette
Billie: The Jigsaw Puppet – featurette
Full Disclosure Report – featurette
Cast & crew interviews
SAW II
The Making Of Saw II – 7 featurettes
Zombie – short film (with optional director's commentary)
Cast & crew interviews
Bits & Pieces: The Props of Jigsaw – featurette
The Traps of Jigsaw – 4 featurettes
Jigsaw's Game – featurette
Storyboard to Screen comparisons
Photo Gallery: The Art of Saw II
Photo Gallery: The Visual Concept of Saw II
SAW III
Cast & crew interviews
Interview with Darren Lynn Bousman
Discussion with Darren Lynn Bousman before the German premiere
Saw Make-up Workshop (Looking Tortured)
Behind-the-Scenes – featurette
Killer Inside – music video by Hydrovibe
Choose the Death – 10 featurettes
SAW IV
Cast & crew interviews
Behind-the-Scenes – featurette
SAW V
Cast & crew interviews
Behind-the-Scenes – featurette
SAW VI
Cast & crew interviews
Behind the Machine – featurette
Tobin Bell (Jigsaw) responds to fan questions
SAW 3D
Cast & crew interviews
Behind-the-Scenes – featurette